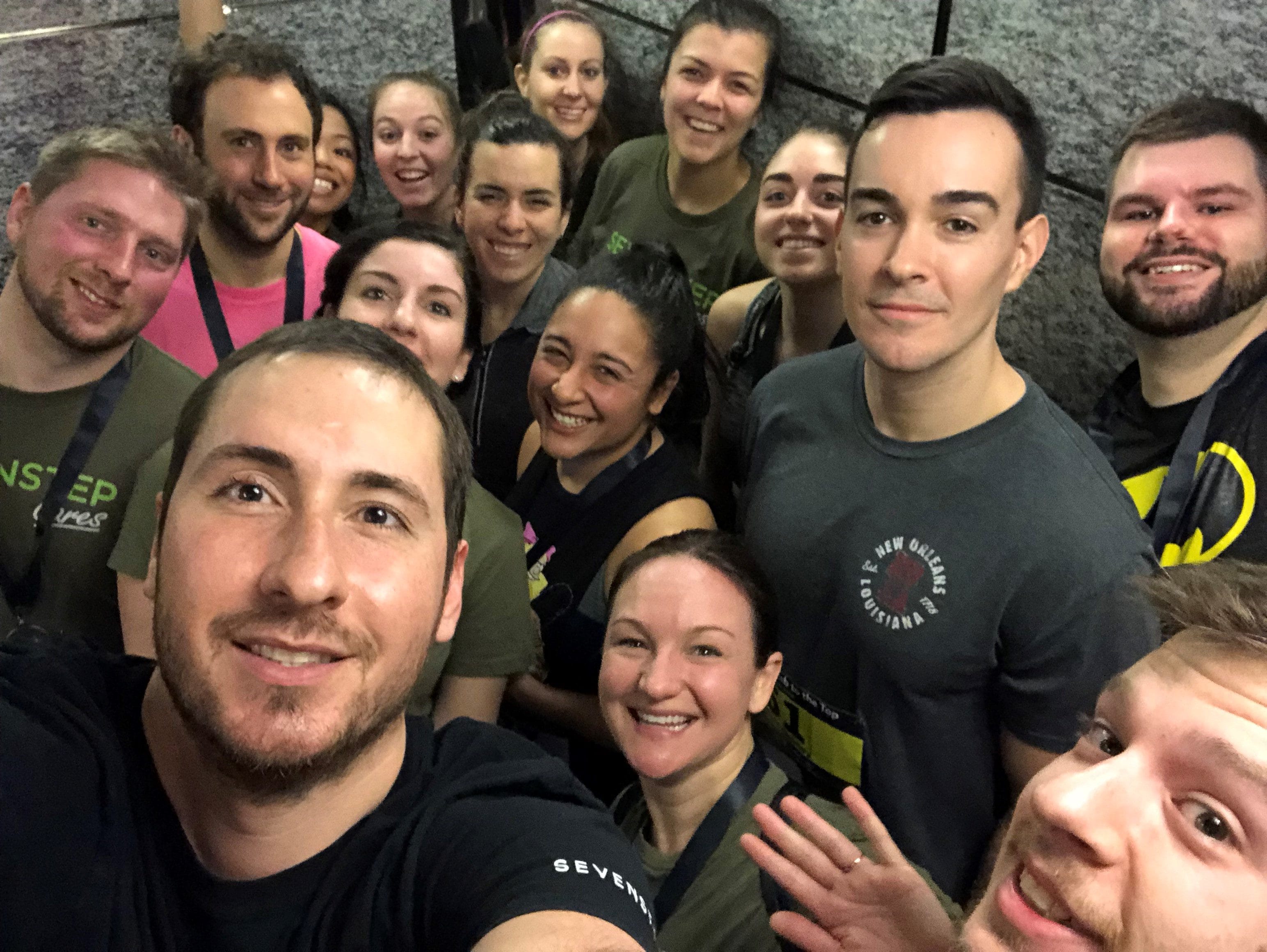 Sevenstep Team | April 15, 2018
In the last few months, the Sevenstep team has been busy supporting some truly great causes. As an organization unified in doing good inside and outside the workplace, we participate in ongoing company volunteerism and fundraising efforts. These events are our way of giving back to our community, making a broader impact, and working together while having fun.
Recently we took part in three meaningful events:
MS Climb to the Top
Climb to the Top Boston, put on by the National Multiple Sclerosis Society, is a unique event that raises money to help the more than 21,000 people in New England affected by multiple sclerosis (MS). MS is a disease of the central nervous system that has no known cause or cure.
In support of finding a cure, Sevenstep employees ascended the 1,200 stairs to the top of New England's tallest building – 200 Clarendon Tower – for the fifth year in a row. Not only did Team Sevenstep have 17 people complete the climb, we raised over $7,300, finishing as the sixth top fundraising team.
"Not only did I feel accomplished, but on our way back down to the lobby, we had the opportunity to shake hands with a few individuals that were affected by MS and it was such a great feeling hearing them say 'thank you' and be so appreciative of our support. Definitely a great event and I will be back next year!"

Jeralyn Hawes – Senior Manager, Client Services
Polar Plunge
The Polar Plunge, hosted by Special Olympics Colorado, is held annually to support the more than 22,000 Special Olympics Colorado athletes. The money raised offers children and adults with intellectual disabilities year-round sports training and competition. Each year the event challenges thousands who are #FreezinForAReason to jump into one of Colorado's lakes or pools while competing to raise the most money.
Nine Sevenstep employees woke up early to spend a chilly Sunday morning volunteering for this year's Polar Plunge held at Elitch Gardens Theme and Water Park. Prior to which, we hung signs, set-up tents and made hot chocolate for plungers (which Kathryn Chisholm, Lead Sourcer, might have accidentally spilled everywhere). Once the plunge started, we carried belongings to the finisher table and directed plungers, adorned in various costumes, to the pool.
"I think it was great seeing us come together because it required us to communicate and tackle each item as a team. Seeing the whole event come off as a success and knowing that we had a helping hand in the feat gave me a sense of accomplishment. I volunteer because it is great seeing people who I may not interact with on a day-to-day basis come together for one common goal."

Jon Hakanson – Lead Coordinator and Volunteer Ladder Holder

(He got splashed with every jump.)
Hats Off for Brain Tumor Research
Sevenstep's Devon office in England was business as usual for a typical Thursday in March, except for one thing: Hats.
Across the pond, Sevenstep employees were wearing hats to raise money and awareness for Brain Tumor Research, donating to braintumourresearch.org. Brain tumors kill more children and adults under the age of 40 than any other cancer, yet just one percent of the UK national spend on cancer research has been allocated to this devastating disease.
"It's such a creative and unique way to get to know the team better off the desk and to really get to know people's personalities and passions. And then there's the obvious – knowing you're making a difference by volunteering is powerful enough; adding in that these are organizations we're truly supporting as a team just makes it even more so."

Nicole Vachon – Manager, Talent Services

Proud Boston Fan & Bruins Hat-Wearer
Personalities definitely came through: There were beanies, baseball caps, bowlers, fedoras, hats with ears and more. Most Sevenstep employees even kept their hats on under their headsets while working. Blake Thomas, Lead Recruiter, had a hat rotation going on, changing which one he was wearing every hour. His coworkers lovingly referred to him as "the hat hoarder."
Look for Sevenstep Volunteers in Q2
With Q2 well underway, and more volunteer opportunities being discussed, Sevenstep aims to make a difference in our communities as much as with our clients.
Whether we are cooking for families at the local Ronald McDonald House or supporting families impacted by mitochondrial disease at a Kentucky Derby party, stay tuned to see what's next!